Ich saß am 2. WM-Tag nichts Böses ahnend auf meinem Platz auf der Pressetribüne, als mich Michael Søvsø von http://ww1a.faceoff.dk auf meine Berichterstattung vom Turnier ansprach und fragte, ob er eine kleine Story über mich machen dürfte. Das Ergebnis seht ihr mit einem Klick.
You will find them at almost every international hockey tournament: Media guys or supporters who never stopped loving hockey and who have been around the game for some 20 or 30 years. People who have ice hockey in their heart.
Norbert "Noppe" Stramm is one of them. He fell in love with ice hockey in 1983 watching BSC Preussen Berlin play in the 2nd Bundesliga of Germany. He still have the "dreaming looks" when he tells about the atmosphere and those good old days at the legendary rink of Jafféstrasse where crowds flocked to see Preussen battle for promotion to the Bundesliga.
BSC Preussen Berlin promoted in 1989 and the club's adventure in the Bundesliga and thereafter the DEL lasted until 2002 when Preussen was relegated, went broke and had to start all over in the lower tiers of German Hockey.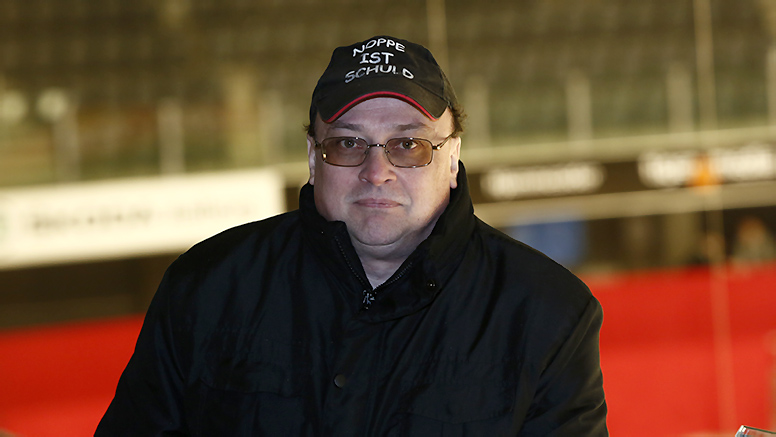 In stead of being a full time Preussen-fan, Norbert "Noppe" Stramm began to cover ice hockey at Kufennews.de and after that Radio Eiskalt – a magazine and podcast about and around ice hockey in Berlin where he lives.
In 2012 he decided to start his own project "Noppe ist schuld" and he now – being in retirement – he travels around the hockey world to write and liveupdate, mainly from women's hockey.
He follows ESC 07 Berlin, the Landesliga Berlin and a little bit of FASS Berlin (Oberliga Nord, Regionalliga Ost) in lower tiers but mostly he is dedicated to the Women's Bundesliga team of OSC Berlin.
He follows all of the OSC-games with live updates, and he live updates every time the women's NT of Team Germany plays. Home or abroad. So of course he is here in Aalborg.
– I work with hockey every day and I finance everything myself. If I'm not at a game. I'm preparing for the next game or I write stories for my homepage. It is a bit ironic that I spend so much time writing, because I hated it back in school, he laughs.
– I think the women's hockey deserves more attention. They don't get any money for what they do, but still they practice very hard and play alongside their daily work, says "Noppe" who will be in Aalborg during the week.
Of course hopes that Team Germany will return to top level hockey after the Division IA-tournament.
– It will be a tough task, but I think we can make it. It is very important to do good so we can get home advantage at the Olympic Qualification as well, Noppe says.
It is a good idea to cruise through his website if you want to know more about the fascinating history of German hockey in the last 30 years. And of course you can follow his liveupdates from Aalborg everyday at www.noppe-ist-schuld.de.